Holy Docsis, Batman!
If your Internet connection isn't as fast as you'd like, it might be time to upgrade your cable modem.
We've been using the same cable modem—a Motorola Surfboard 3100—since 2000, and it seemed like it was starting to go a bit batty in its dotage, requiring reboots every month or so. Time to agonize over spending the money on a new modem. Since, of course, the reboots could be simply due to Cox—"My friend in the digital age"—having problems, a new modem might be $75 wasted. But what the heck, might as well give it a shot.
One Linksys cable modem purchase later, it was time to see if anything had changed.
Here's the verdict from speedtest.net about the Internet connection with the old modem: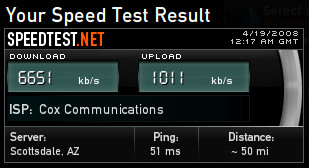 Not too shabby.
And here's the result with the new modem: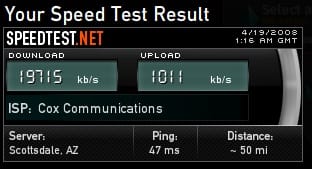 Holy Docsis, Batman!
The moral of the story is that if you're using a Docsis 1.1 cable modem, it might behoove you to get with the program and get a Docsis 2.0 modem…
Posted Sunday, 20 April, 2008 by Nic Lindh
---
For your enjoyment, the 10 latest posts
Another book roundup, including some stellar athletes and soldiers, what might be the most jaded, soul-weary protagonist ever, and some grimdark fantasy.
The Internet is getting creepy, and Nic is breaking out his tinfoil hat after newspaper paywalls push him over the edge.
Nic is tired of tech sites obsessing over Apple's financials and business strategy. So very tired.
Nic reads a book about the processed food industry and is incensed.
Computers are complicated. This brings out the irrational in people.
Nic proposes the loan word Rechthaberei be incorporated into American English.
The Core Dump is back! Books were read during the hiatus. Includes The Coldest Winter, Oh, Myyy!, Tough Sh*t, The Revolution Was Televised, The Rook, Mr. Penumbra's 24 Hour Bookstore, Gun Machine, Fortress Frontier, Standing in Another Man's Grave, and The Memory of Light.
This site will return in February.
From a true patriot to a world-weary detective, a dead god, and a civilization about to sublime from the galaxy, this book roundup spans the gamut. Includes Where Men Win Glory, Wild, Inside the Box, The Black Box, Three Parts Dead, Red Country, and The Hydrogen Sonata.
Springsteen gives a concert in Phoenix. It's fantastic.