R.I.P. Pompe, 2001 - 008
My parents' dog passed away.
My parents' dog Pompe passed away this week, riddled with lymphoma.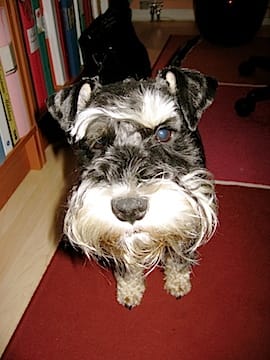 Naturally, it's difficult for my parents, who have poured infinite amounts of time and love into the little being for the last seven years.
As a true schnauzer, he didn't show any symptoms until it was much too late for anything to be done. On the last day my dad walked him, he went to the corner, did his business, and then laid down and couldn't get up, so my dad had to carry him home. After that, it was the vet hospital and death.
In a selfish way I'm really upset too, as I was looking forward to walking him when Andrea and I go to Sweden this summer. Pompe and I spent many a happy hour together walking in the woods around my parents' house.
He is missed. Godspeed, little guy.
Posted Saturday, 26 April, 2008 by Nic Lindh
---
For your enjoyment, the 10 latest posts
Another book roundup, including some stellar athletes and soldiers, what might be the most jaded, soul-weary protagonist ever, and some grimdark fantasy.
The Internet is getting creepy, and Nic is breaking out his tinfoil hat after newspaper paywalls push him over the edge.
Nic is tired of tech sites obsessing over Apple's financials and business strategy. So very tired.
Nic reads a book about the processed food industry and is incensed.
Computers are complicated. This brings out the irrational in people.
Nic proposes the loan word Rechthaberei be incorporated into American English.
The Core Dump is back! Books were read during the hiatus. Includes The Coldest Winter, Oh, Myyy!, Tough Sh*t, The Revolution Was Televised, The Rook, Mr. Penumbra's 24 Hour Bookstore, Gun Machine, Fortress Frontier, Standing in Another Man's Grave, and The Memory of Light.
This site will return in February.
From a true patriot to a world-weary detective, a dead god, and a civilization about to sublime from the galaxy, this book roundup spans the gamut. Includes Where Men Win Glory, Wild, Inside the Box, The Black Box, Three Parts Dead, Red Country, and The Hydrogen Sonata.
Springsteen gives a concert in Phoenix. It's fantastic.