On through the night
Nic reports on his and his daughter's flight to Sweden.
<a href='http://thecoredump.org/images/pennant.jpg' rel="shadowbox">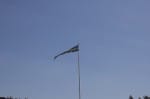 Andrea and I are safely nestled at my parents' house after a long journey from Phoenix to Sweden.
We had stop-overs in Chicago and Copenhagen, both of which were short and sweet, even though the time between flights was way too chintzy in Copenhagen and we ended up running through the airport with me carrying Andrea and our luggage, blitzing past flight monitors that had our flight status as "closed." A wee bit on the stressful side, but we made the puddle jumper from Copenhagen to Gothenburg with our stomachs in our throats.
Andrea was a complete champ through the trip. I think it's that she's six years old now, and really gets what's going on as we hop from aluminum tube to aluminum tube.
We landed in a Sweden from some other dimension, with clear blue skies and warm weather.
At this point things have cooled down a bit and the clouds are threatening rain, but it's still really nice and the summer light is incredible—even though I grew up here, it was still amazing when Andrea and I woke up at 4am the morning after we landed to find it light enough to go outside and read the newspaper.
I understand there are worse ways to spend the month of June.
Posted Wednesday, 11 June, 2008 by Nic Lindh
---
For your enjoyment, the 10 latest posts
Another book roundup, including some stellar athletes and soldiers, what might be the most jaded, soul-weary protagonist ever, and some grimdark fantasy.
The Internet is getting creepy, and Nic is breaking out his tinfoil hat after newspaper paywalls push him over the edge.
Nic is tired of tech sites obsessing over Apple's financials and business strategy. So very tired.
Nic reads a book about the processed food industry and is incensed.
Computers are complicated. This brings out the irrational in people.
Nic proposes the loan word Rechthaberei be incorporated into American English.
The Core Dump is back! Books were read during the hiatus. Includes The Coldest Winter, Oh, Myyy!, Tough Sh*t, The Revolution Was Televised, The Rook, Mr. Penumbra's 24 Hour Bookstore, Gun Machine, Fortress Frontier, Standing in Another Man's Grave, and The Memory of Light.
This site will return in February.
From a true patriot to a world-weary detective, a dead god, and a civilization about to sublime from the galaxy, this book roundup spans the gamut. Includes Where Men Win Glory, Wild, Inside the Box, The Black Box, Three Parts Dead, Red Country, and The Hydrogen Sonata.
Springsteen gives a concert in Phoenix. It's fantastic.