The solstice
Nic talks about the Swedish midsummer tradition. With pictures.
Midsummer's Eve is arguably the biggest holiday in Sweden, and definitely my favorite—there's no flag waving and no gift buying. It's all about enjoying the longest day of the year, the lushness of Sweden at its finest, and eating good food.
So I was incredibly happy to be able to spend Midsummer in Sweden and partake along with my daughter.
The holiday requires nubbe—chilled akvavit—so there was quite a line at the state-controlled liquor store the day before.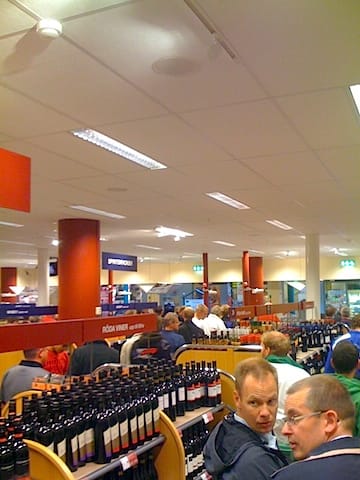 A large part of the tradition is the raising of and dancing around the midsummer pole. As you can see, the phallic nature of the pole was disguised by Christian missionaries with the addition of a cross bar which was then subverted with the cunning use of wreaths. You can use your own dirty mind to figure out what the wreaths resemble. Clever of the heathens, I say.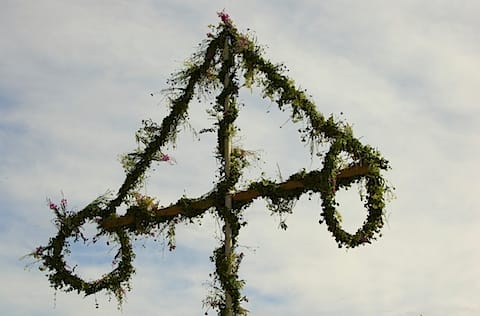 After the pole was raised, traditional dancing ensued. Andrea was a bit confused but happy.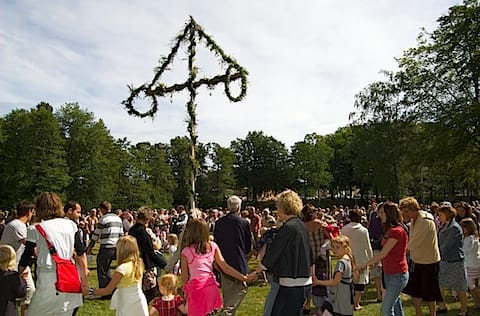 Another important tradition is to eat outside. Dagnabbit, it's the middle of summer, so Food Shall be Consumed Out of Doors. As is also customary, rain was threatening, so it was a bit touch and go on that part.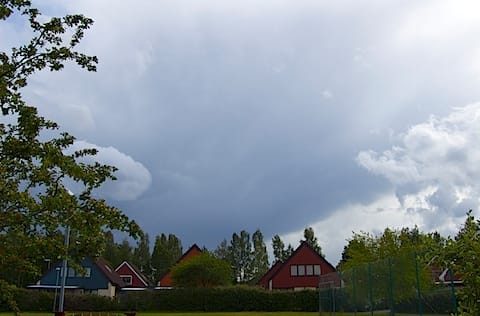 But never say die, so we set the table on the patio.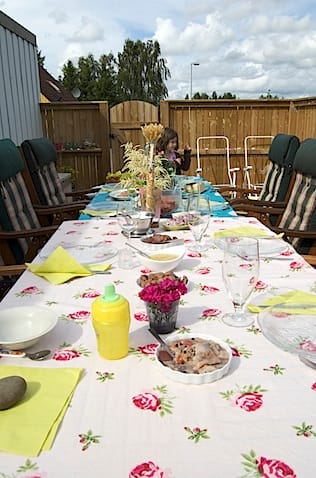 The most important items are already on the table: the herring and the nubbe. Everything else is gravy.
Fortunately, the weather gods relented, and we were able to dine al fresco.
All in all, an excellent Midsummer's Eve.
Posted Tuesday, 01 July, 2008 by Nic Lindh
---
For your enjoyment, the 10 latest posts
Another book roundup, including some stellar athletes and soldiers, what might be the most jaded, soul-weary protagonist ever, and some grimdark fantasy.
The Internet is getting creepy, and Nic is breaking out his tinfoil hat after newspaper paywalls push him over the edge.
Nic is tired of tech sites obsessing over Apple's financials and business strategy. So very tired.
Nic reads a book about the processed food industry and is incensed.
Computers are complicated. This brings out the irrational in people.
Nic proposes the loan word Rechthaberei be incorporated into American English.
The Core Dump is back! Books were read during the hiatus. Includes The Coldest Winter, Oh, Myyy!, Tough Sh*t, The Revolution Was Televised, The Rook, Mr. Penumbra's 24 Hour Bookstore, Gun Machine, Fortress Frontier, Standing in Another Man's Grave, and The Memory of Light.
This site will return in February.
From a true patriot to a world-weary detective, a dead god, and a civilization about to sublime from the galaxy, this book roundup spans the gamut. Includes Where Men Win Glory, Wild, Inside the Box, The Black Box, Three Parts Dead, Red Country, and The Hydrogen Sonata.
Springsteen gives a concert in Phoenix. It's fantastic.