The Republican in winter
It must be rough to be a Goldwater Republican these days.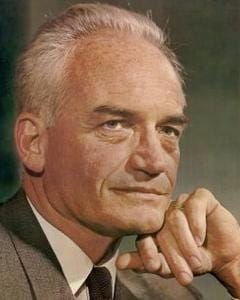 Barry Goldwater. Source: Wikipedia
One of the things that keep bothering me in these election days is what it must be like to be a classic small-government, fiscal responsibility, keep government out of my life Republican.
Because that's not the Republican Party that's heading into an election on November 4th. That Republican Party is a no-abortion, Church is everything, government will regulate what you do in the bedroom party.
So what do you do if you're a classic Republican? Hold your nose and vote for the Jesus Brigade even though they've stolen your Party? Vote Libertarian? Not vote at all? Dare you even think the thought of voting Democrat? Oh, no, taxes! What do you do?
If nothing else, what happens on November 4th will be an acid test for the Republicans—how many of you will be able to overlook corruption, incompetence, and Dark Ages-style Bible thumping in order to not put a Democrat in the Oval Office?
Because the hard truth is that the Republican Party today has nothing to do with the values people like Barry Goldwater stood for. Today the Republican Party is an organization that longs for a 1950s that never existed, a time when White children lived innocent lives, when the Church gave you your values, rock'n'roll was the Devil's music, and nobody was gay.
So if you're a Goldwater-style Republican, why do you let the Bible thumpers run away with your party? Why aren't you fighting back and reclaiming the Republican party? Do you not see it? Do you not care? Or have the Goldwater-style Republicans died out?
I'm genuinely puzzled.
Posted Saturday, 20 September, 2008 by Nic Lindh
---
For your enjoyment, the 10 latest posts
Another book roundup, including some stellar athletes and soldiers, what might be the most jaded, soul-weary protagonist ever, and some grimdark fantasy.
The Internet is getting creepy, and Nic is breaking out his tinfoil hat after newspaper paywalls push him over the edge.
Nic is tired of tech sites obsessing over Apple's financials and business strategy. So very tired.
Nic reads a book about the processed food industry and is incensed.
Computers are complicated. This brings out the irrational in people.
Nic proposes the loan word Rechthaberei be incorporated into American English.
The Core Dump is back! Books were read during the hiatus. Includes The Coldest Winter, Oh, Myyy!, Tough Sh*t, The Revolution Was Televised, The Rook, Mr. Penumbra's 24 Hour Bookstore, Gun Machine, Fortress Frontier, Standing in Another Man's Grave, and The Memory of Light.
This site will return in February.
From a true patriot to a world-weary detective, a dead god, and a civilization about to sublime from the galaxy, this book roundup spans the gamut. Includes Where Men Win Glory, Wild, Inside the Box, The Black Box, Three Parts Dead, Red Country, and The Hydrogen Sonata.
Springsteen gives a concert in Phoenix. It's fantastic.