Review: Terminator Salvation
Nic goes to the movies. He is not happy.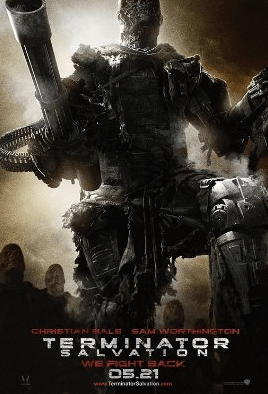 Seriously?
I thought I'd made peace with the fact that summer blockbusters are stupid. I really thought so. But this, this … man, I have a headache.
Not to go all "they raped my childhood" but the first Terminator was life-changing for me—science fiction noir with a mind-bending premise. And then they made the second one, and it was stupid and annoying, but with some cool effects. And then they made the third one, and it did horrible things to my will to live. And now they've made a fourth one.
I actually had hopes for this one. Christian Bale did a fantastic job with Batman. Yay. It was supposed to be darker and grittier, kind of like the Batman reboot. Again, yay.
But what Hollywood ended up coughing up was a Generic Summer Blockbuster. Sure, Terminator Salvation (the lack of a colon is killing me) has terminators. Tons of terminators. Or at least things that look like terminators. You know, chrome skeletons with red eyes. Clank, clank.
Here's where the problems start: In the previous installments in the franchise, the glimpses of the future we've seen have been horrific—people cowering like animals in underground tunnels while Skynet's hunter-killers roam the sky. Intense stuff. But in Terminator Salvation the resistance has a freaking air force. And a submarine. OK. And apparently nuclear annihilation will just leave some cool ruins behind. No radiation, no messed up weather. OK. And apparently a lot of survivors aren't even part of the resistance; they're just hanging out getting their Mad Max on. Sigh.
No matter how sweaty Christian Bale gets, this is not gritty.
But what really, really brings on the headache is the complete asinine stupidity of Skynet. Oh, sure, they can build terminators, but apparently they can't make them actually kill anybody without first giving them a chance to find the right gun or tool to dispatch the terminator. This whole pushing people around thing is just bullying, not terminating. Look it up, Skynet. I know you have a dictionary built in.
The terminator programming basically seems to be: sneak up on somebody (ti-hi!) then give them a shove and wait a bit so they have time to think.
But OK. Moving on.
Then there's Skynet's insistence on building in displays and terminals for humans to use in their super-heavily defended base. (Which, incidentally, is very easy to get into for people who want kill their d00ds.)
I know, I know, I'm overthinking this. But you know, I don't know the exact budget for this thing, but you'd think they could have spent a few thousand on somebody to come in and point out the places where things are just way too freaking stupid.
So yeah, it's called Terminator Salvation without-a-colon, but it could just as well have been called Independence Day or Transformers. Same generic crap.
Clap when stuff blows up, monkey boy, clap!
Posted Monday, 08 June, 2009 by Nic Lindh
---
For your enjoyment, the 10 latest posts
Another book roundup, including some stellar athletes and soldiers, what might be the most jaded, soul-weary protagonist ever, and some grimdark fantasy.
The Internet is getting creepy, and Nic is breaking out his tinfoil hat after newspaper paywalls push him over the edge.
Nic is tired of tech sites obsessing over Apple's financials and business strategy. So very tired.
Nic reads a book about the processed food industry and is incensed.
Computers are complicated. This brings out the irrational in people.
Nic proposes the loan word Rechthaberei be incorporated into American English.
The Core Dump is back! Books were read during the hiatus. Includes The Coldest Winter, Oh, Myyy!, Tough Sh*t, The Revolution Was Televised, The Rook, Mr. Penumbra's 24 Hour Bookstore, Gun Machine, Fortress Frontier, Standing in Another Man's Grave, and The Memory of Light.
This site will return in February.
From a true patriot to a world-weary detective, a dead god, and a civilization about to sublime from the galaxy, this book roundup spans the gamut. Includes Where Men Win Glory, Wild, Inside the Box, The Black Box, Three Parts Dead, Red Country, and The Hydrogen Sonata.
Springsteen gives a concert in Phoenix. It's fantastic.