The salting of the meat
Nic goes all Mythbusters on the idea that salting meat tenderizes it.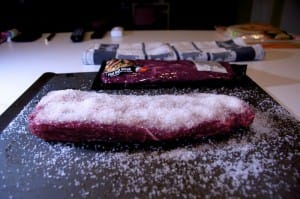 The other day I came across an article about the wonders of curing meat in salt. The idea is that covering a cut of meat with sea salt or kosher salt for a short period of time will allow … well, chemistry to happen and the meat will become more tender and flavorful. The salt is then rinsed off, and doesn't affect the taste.
So, being a cheapskate and an aficionado of eating carcasses I decided this needed to be tested. And being a huge nerd, I decided to test it scientifically. So I bought two flat iron steaks and covered one of them in sea salt for 40 minutes, while leaving the other one untouched. After grilling them both well done—no pink—it was time to taste test. Both of my blind test panelists (a.k.a. my wife and daughter) failed to pick out the meat that had gone through the process. For myself, I thought the salted meat was a teeny bit more tender, but that could just be observer bias.
So, sadly, it looks like this myth is busted. But it did provide an opportunity to put my daughter on the path of the scientific way, which is a Good Thing.
Posted Sunday, 14 February, 2010 by Nic Lindh
---
For your enjoyment, the 10 latest posts
Another book roundup, including some stellar athletes and soldiers, what might be the most jaded, soul-weary protagonist ever, and some grimdark fantasy.
The Internet is getting creepy, and Nic is breaking out his tinfoil hat after newspaper paywalls push him over the edge.
Nic is tired of tech sites obsessing over Apple's financials and business strategy. So very tired.
Nic reads a book about the processed food industry and is incensed.
Computers are complicated. This brings out the irrational in people.
Nic proposes the loan word Rechthaberei be incorporated into American English.
The Core Dump is back! Books were read during the hiatus. Includes The Coldest Winter, Oh, Myyy!, Tough Sh*t, The Revolution Was Televised, The Rook, Mr. Penumbra's 24 Hour Bookstore, Gun Machine, Fortress Frontier, Standing in Another Man's Grave, and The Memory of Light.
This site will return in February.
From a true patriot to a world-weary detective, a dead god, and a civilization about to sublime from the galaxy, this book roundup spans the gamut. Includes Where Men Win Glory, Wild, Inside the Box, The Black Box, Three Parts Dead, Red Country, and The Hydrogen Sonata.
Springsteen gives a concert in Phoenix. It's fantastic.