Does lemon juice tenderize meat?
Nic goes all MythBusters on the idea that lemon juice tenderizes meat.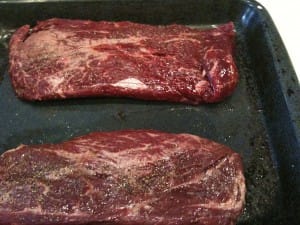 I'm working at introducing my daughter to the scientific method. This is really important to me, as I firmly believe the scientific method is the only way we can rise above being apes throwing rocks at each other for believing in the wrong sky fairy.
My way of introducing the method is to perform blind tests on grilled meats. It's been a huge hit with my daughter—every time we get ready to cook on the weekend she asks if we're doing another blind test. We've already explored if salt will tenderize meat. If you don't want to click the link, the answer is nope. Negatory.
Today we moved on to test if lemon juice tenderizes meat. From what I've been told, lemon juice contains enzymes that break down the proteins in the meat, thus rendering it more tender. Which seems reasonable to me.
The process is simple: Buy two slabs of meat—in our case, flat iron steaks, since they make wicked good burrito fillings—subject one piece of the meat to marinating in lemon juice for an hour, and leave the other as a control. Then the meat is grilled and my wife and daughter perform a taste test.
In this case, they both picked the wrong meat. So for short runs, I'm calling lemon juice snake oil. It's quite possible marinating in lemon juice overnight would yield different results, but you know, that would take much more planning than I'm willing to put into this.
So far we've performed two tests and both have been negative. I hope to find one that actually works for the next time.
Stay tuned to the next episode of BBQing with SCIENCE!.
Posted Sunday, 25 April, 2010 by Nic Lindh
---
For your enjoyment, the 10 latest posts
Another book roundup, including some stellar athletes and soldiers, what might be the most jaded, soul-weary protagonist ever, and some grimdark fantasy.
The Internet is getting creepy, and Nic is breaking out his tinfoil hat after newspaper paywalls push him over the edge.
Nic is tired of tech sites obsessing over Apple's financials and business strategy. So very tired.
Nic reads a book about the processed food industry and is incensed.
Computers are complicated. This brings out the irrational in people.
Nic proposes the loan word Rechthaberei be incorporated into American English.
The Core Dump is back! Books were read during the hiatus. Includes The Coldest Winter, Oh, Myyy!, Tough Sh*t, The Revolution Was Televised, The Rook, Mr. Penumbra's 24 Hour Bookstore, Gun Machine, Fortress Frontier, Standing in Another Man's Grave, and The Memory of Light.
This site will return in February.
From a true patriot to a world-weary detective, a dead god, and a civilization about to sublime from the galaxy, this book roundup spans the gamut. Includes Where Men Win Glory, Wild, Inside the Box, The Black Box, Three Parts Dead, Red Country, and The Hydrogen Sonata.
Springsteen gives a concert in Phoenix. It's fantastic.