Merry Christmas!
It's once again the winter solstice. It's time to sit back and relax.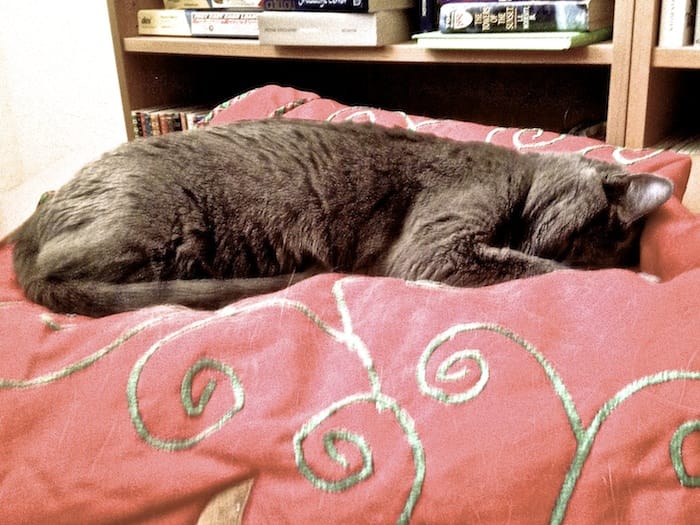 The winter solstice is upon us once again, and since Christmas Eve falls on a Saturday this year, it's Caturday Catmas. Never let it be told I don't observe tradition.
Joking aside, 2011 was a rough year both from a personal side, with a lot more sickness and stress about things I don't care to discuss in a public forum than I'd have liked, and within society in general, where there was much, much too much generalized insanity and too many good people dying.
Let's hope 2012 turns out better. But for now, during the dark times, we can at least relax, sit back and enjoy quiet time with family and friends. A breather.
Sit back. Take a deep breath. Exhale slowly. Take another. Eat something delicious. Think about good things. Hug your loved ones.
Nobody is going to take care of you if you don't.
As it's Christmas, here's one of my favorite seasonal songs: Robert Earl Keene's Merry Christmas from the Family.
His grin gets me every time.
Happy holidays, one and all.
Posted Saturday, 24 December, 2011 by Nic Lindh
---
For your enjoyment, the 10 latest posts
Another book roundup, including some stellar athletes and soldiers, what might be the most jaded, soul-weary protagonist ever, and some grimdark fantasy.
The Internet is getting creepy, and Nic is breaking out his tinfoil hat after newspaper paywalls push him over the edge.
Nic is tired of tech sites obsessing over Apple's financials and business strategy. So very tired.
Nic reads a book about the processed food industry and is incensed.
Computers are complicated. This brings out the irrational in people.
Nic proposes the loan word Rechthaberei be incorporated into American English.
The Core Dump is back! Books were read during the hiatus. Includes The Coldest Winter, Oh, Myyy!, Tough Sh*t, The Revolution Was Televised, The Rook, Mr. Penumbra's 24 Hour Bookstore, Gun Machine, Fortress Frontier, Standing in Another Man's Grave, and The Memory of Light.
This site will return in February.
From a true patriot to a world-weary detective, a dead god, and a civilization about to sublime from the galaxy, this book roundup spans the gamut. Includes Where Men Win Glory, Wild, Inside the Box, The Black Box, Three Parts Dead, Red Country, and The Hydrogen Sonata.
Springsteen gives a concert in Phoenix. It's fantastic.