Ode to joy
Springsteen gives a concert in Phoenix. It's fantastic.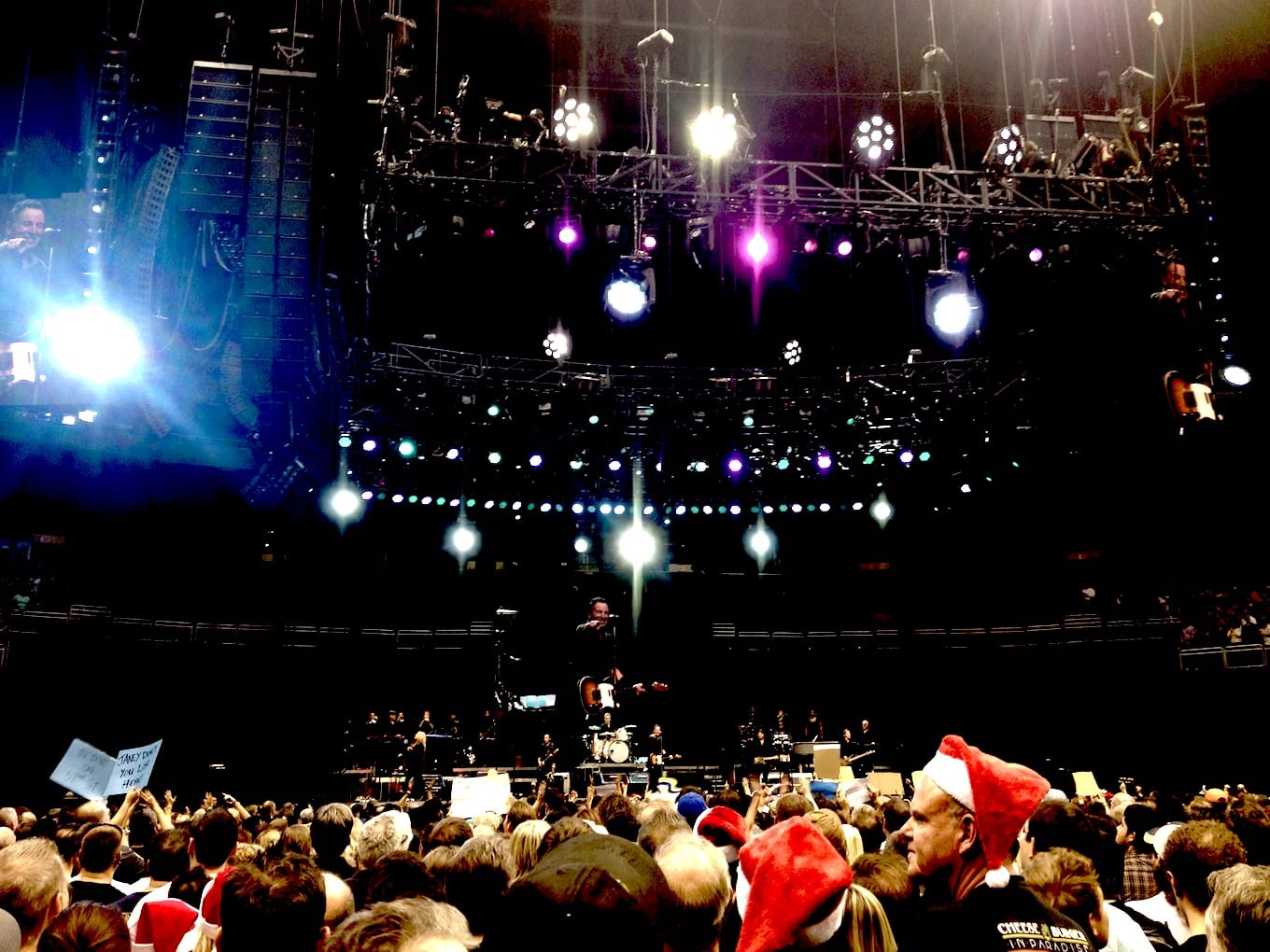 Bruce Springsteen performed a concert in Phoenix1 Thursday night. As I've been a Springsteen fan since seventh grade in Sweden when a friend of mine introduced me to his older brother's LPs, it was time to make an effort to see Springsteen now. He will only be with us for so long.
Now, as I've talked about before on this blog, Springsteen was a major motivator for me to learn English and he is in many ways a reason I live in the States now, so this concert carried a lot of emotional baggage.
The first time I saw Springsteen in concert was way back in 1985 at Ullevi arena in Gothenburg, Sweden2 on the Born in the USA tour. Yes, 1985.
Springsteen is one of the major reasons I'm fluent in English and living in America, and I've spent countless hours listening to his albums. I expected a great show.
It's Springsteen, so of course it'll be a great show.
The Boss delivered something better than great. At this point in his life and career he's amassed a massive back catalogue to draw from and has honed his craft as a performer to such a fine edge he knows exactly how to keep an audience in the palm of his hand. Seriously, if you programmed a Terminator to run a show, it would not do it as well as Springsteen.
That combined with the work ethic that has everything rehearsed to the point where it looks spontaneous is really a stunning thing to behold.
But the thing that really made the concert transcendent was joy. It sounds corny, but it was three hours of sheer joy—Springsteen and the entire band were beaming, looking like there was nowhere they'd rather be and nothing they'd rather do than play the hell out of that concert.
It's wonderful that Springsteen, who has penned some truly bleak songs about the American condition, is at the point in his life where he wants to celebrate and share joy and that he's in a position where he can travel the world and do so.
Even the poignant memorial to fallen band members Clarence Clemons and Danny Federici were joyous in their own way—celebrating their lives instead of mourning their deaths.
If you get any chance to see him, do it.
Posted Saturday, 08 December, 2012 by Nic Lindh
---
For your enjoyment, the 10 latest posts
Another book roundup, including some stellar athletes and soldiers, what might be the most jaded, soul-weary protagonist ever, and some grimdark fantasy.
The Internet is getting creepy, and Nic is breaking out his tinfoil hat after newspaper paywalls push him over the edge.
Nic is tired of tech sites obsessing over Apple's financials and business strategy. So very tired.
Nic reads a book about the processed food industry and is incensed.
Computers are complicated. This brings out the irrational in people.
Nic proposes the loan word Rechthaberei be incorporated into American English.
The Core Dump is back! Books were read during the hiatus. Includes The Coldest Winter, Oh, Myyy!, Tough Sh*t, The Revolution Was Televised, The Rook, Mr. Penumbra's 24 Hour Bookstore, Gun Machine, Fortress Frontier, Standing in Another Man's Grave, and The Memory of Light.
This site will return in February.
From a true patriot to a world-weary detective, a dead god, and a civilization about to sublime from the galaxy, this book roundup spans the gamut. Includes Where Men Win Glory, Wild, Inside the Box, The Black Box, Three Parts Dead, Red Country, and The Hydrogen Sonata.
Springsteen gives a concert in Phoenix. It's fantastic.