Why so serious?
Nic is not impressed by the MPAA's rating system but he is impressed by The Dark Knight.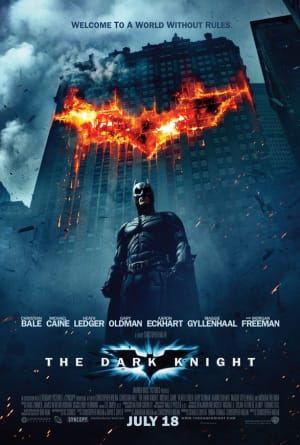 Hot from Netflix, The Dark Knight appeared at Casa Core Dump yesterday. I noticed it was rated PG-13, which struck me a little odd, since from the trailers it seemed like a pretty dark (heh) movie.
And yep, it's a disturbing movie, especially the Joker character, who truly brings the psychotic.
The Dark Knight doesn't have any nudity, f-bombs, or gore, but is stocked to the rafters with psychotic people, disturbing imagery, and endless violence.
So how much violence does a movie actually have to contain to get an R rating? According to the MPAA themselves, a PG-13 movie may contain "depictions of violence … but generally not both realistic and extreme or persistent violence." An R rating is earned when there is "intense or persistent violence."
We can argue semantics all day, but I'd say the correct definition of R versus PG-13 is: "Boobies means R. No boobies means PG-13."
So thanks MPAA for reminding me that your ratings scheme is utterly worthless.
It's a decent movie, though, if you happen to be a grown-up.
Posted Saturday, 13 December, 2008 by Nic Lindh
---
For your enjoyment, the 10 latest posts
Another book roundup, including some stellar athletes and soldiers, what might be the most jaded, soul-weary protagonist ever, and some grimdark fantasy.
The Internet is getting creepy, and Nic is breaking out his tinfoil hat after newspaper paywalls push him over the edge.
Nic is tired of tech sites obsessing over Apple's financials and business strategy. So very tired.
Nic reads a book about the processed food industry and is incensed.
Computers are complicated. This brings out the irrational in people.
Nic proposes the loan word Rechthaberei be incorporated into American English.
The Core Dump is back! Books were read during the hiatus. Includes The Coldest Winter, Oh, Myyy!, Tough Sh*t, The Revolution Was Televised, The Rook, Mr. Penumbra's 24 Hour Bookstore, Gun Machine, Fortress Frontier, Standing in Another Man's Grave, and The Memory of Light.
This site will return in February.
From a true patriot to a world-weary detective, a dead god, and a civilization about to sublime from the galaxy, this book roundup spans the gamut. Includes Where Men Win Glory, Wild, Inside the Box, The Black Box, Three Parts Dead, Red Country, and The Hydrogen Sonata.
Springsteen gives a concert in Phoenix. It's fantastic.