Thieving bastards stole my image
Being ripped off is no fun, even when it's just a harmless image on a blog nobody reads. Feel the rage!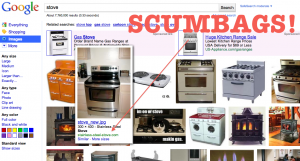 One of the quiet, silly joys of my life has been that for several years one of my images has been the top hit on Google Image Search when you search for "stove".
Today I noticed that the image is still there, now ranked number two, BUT it now links to a landing page for stainless steel stoves, to which I will not link. Where they to add insult to injury also sized it wrong. Sheesh.
So I did a whois-lookup on the domain, found an e-mail address to contact the domain owner, fired off a friendly cease-and-desist e-mail and it bounced, of course.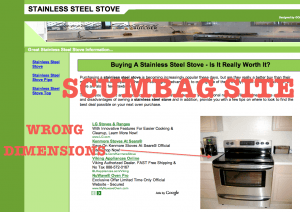 Die in a fire, scum buckets.
My blog has a Creative Commons license, so all they have to do is give me attribution, and all is cool. But no, no, no, had to just steal somebody else's work.
But that's life on the Internet.
What I don't understand, though, is how that site took over my spot? The exact image is still on the Internet at the same URL where it's always lived. So how can another site just hijack the image and take over the search ranking?
Dammit, now I'm going to have to research this…
Posted Thursday, 23 September, 2010 by Nic Lindh
---
For your enjoyment, the 10 latest posts
Another book roundup, including some stellar athletes and soldiers, what might be the most jaded, soul-weary protagonist ever, and some grimdark fantasy.
The Internet is getting creepy, and Nic is breaking out his tinfoil hat after newspaper paywalls push him over the edge.
Nic is tired of tech sites obsessing over Apple's financials and business strategy. So very tired.
Nic reads a book about the processed food industry and is incensed.
Computers are complicated. This brings out the irrational in people.
Nic proposes the loan word Rechthaberei be incorporated into American English.
The Core Dump is back! Books were read during the hiatus. Includes The Coldest Winter, Oh, Myyy!, Tough Sh*t, The Revolution Was Televised, The Rook, Mr. Penumbra's 24 Hour Bookstore, Gun Machine, Fortress Frontier, Standing in Another Man's Grave, and The Memory of Light.
This site will return in February.
From a true patriot to a world-weary detective, a dead god, and a civilization about to sublime from the galaxy, this book roundup spans the gamut. Includes Where Men Win Glory, Wild, Inside the Box, The Black Box, Three Parts Dead, Red Country, and The Hydrogen Sonata.
Springsteen gives a concert in Phoenix. It's fantastic.