Nic ruminates on the changes ten years have wrought.
As of today, The Core Dump has been online for ten years since launching on Oct. 9, 2003. This is the 1,045th post.
It's amazing to think of how much has changed in those years, both from a personal standpoint, especially with the amazing experience of watching my daughter grow into a young woman, and from a publishing standpoint, with vast changes in the tools that drive the Web.
And it is great to have this little site as a chronicle of the journey, from the early days of trying to figure out what on Earth I was supposed to do with this thing, to spending way too many late nights wrestling with different technologies and ideas.
There's some writing in the archive here that's frankly embarrassing to look back on, but there are also some pieces I'm proud of. And I'm so happy to live in a time where anybody can scribble away in public without gatekeepers.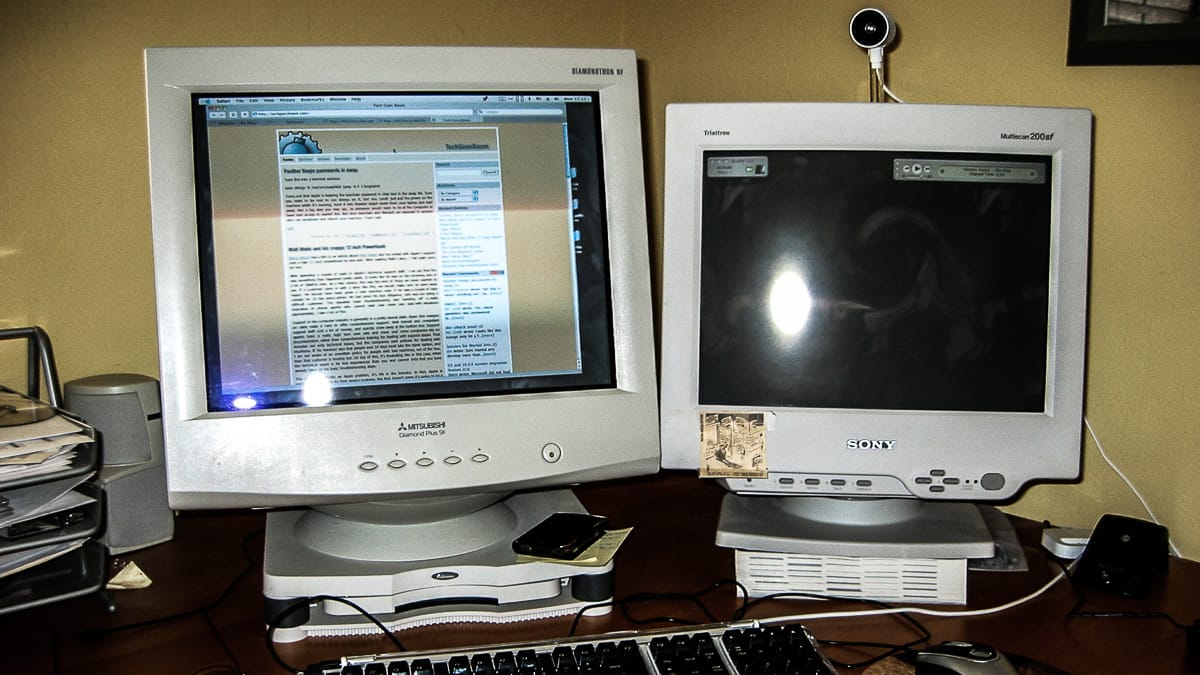 My sweet setup back in 2004: A 19 inch Mitsubishi Diamondtron and a 17 inch Sony Trinitron, the best monitors you could buy. Note the PalmPilot in the black case, the iSight camera, and the iPod dock. Powered by a Windtunnel G4 with ridiculously loud fans.
Back in 2003, blogging was still the domain of nerds who could wrestle Movable Type into submission. Since then the tech has gotten so much easier, first with the easy installation of WordPress (yes, installing WordPress was an order of magnitude easier than Movable Type), and then WordPress introduced widgets so that, like magic, you could edit your sidebar content without going into your theme files. That was magic.
And then, of course, came the rise of microblogging services like Twitter and Tumblr, where the only nerd skill you needed to get started was the ability to remember a user name and password.
But there were bad times as well, like the advent of the comment spammer. Few things take the joy out of publishing like getting up at the crack of dawn to muck the filth out of your site every day.
Unless I've repressed something, this site so far has used Movable Type, Typo (that one ended badly), WordPress, and now Jekyll. Each migration has been more or less painful and took a lot of time, energy, and cursing, but there's no other way to learn about a technology than to dig in and do something with it.
Of course, smart people just spin up a new test site instead of going through the pain of a content migration. Lesson not learned.
The current plan for The Core Dump is to keep trucking. The goal is a post per week, just to keep some kind of rhythm. Looking back through the archive, it's easy to tell that doesn't always happen. The first draft of this post listed a bunch of good reasons why that is, but let's be honest: It's not a matter of time, it's a matter of dedication. And if you really want something, reasons aren't more than excuses.
Slipping the weekly deadline tends to be bad, since when you've been silent for a while the next post has to pick up the slack—it's got to be great. Which it won't be. And then there's sadness and a clenched sphincter to make it fantastic and then there's pressure and then the realization hits that I'm supposed to enjoy doing this. It's a freaking hobby.
The mind is funny.
But the intent is to keep trucking on this: Even if this site is nothing more than a voice screaming into a pillow, dammit, it's my voice.
Here's to another ten years.