It's such a cliché for us Zonies to go to San Diego for vacation, but it's a cliché because it's true: Gorgeous beaches, fantastic weather, and a surmountable distance makes for an excellent getaway.
Got a pretty decent rate at Travelocity for the Ocean Park Inn, which is right on Pacific Beach. I was expecting something pretty run-down and seedy, what with the location, but it was surprisingly fresh. According to the hotel staff, it had been renovated about a year and a half ago. Not too much drunken noise at night, and they were hardcore about people getting out of the heated pool at 10 p.m.; great, as the pool tends to be a magnet for the drunken noise generators at night.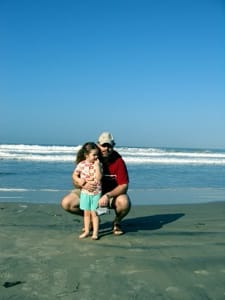 On the beach
SeaWorld was an absolute blast for Andrea, and surprisingly painless for her parents. Clean and nice, with the price gouging kept at somewhat moderate levels, which was appreciated. We arrived promptly at 10 a.m. when they opened and stayed till about 3 p.m., seeing a lot of fish. Took in the dolphin show as well as, of course, the killer whales.
Killer whales are effing huge, in case you didn't know. 7,000 pounds of killing machine, or as the announcer at the show loved saying, "top predator." I'm just waiting for the one day one of those beasts snaps during a show. That will not be a pretty scene.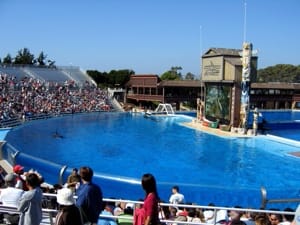 Huge mammal in the water
Nevertheless, the dolphin show was a lot more lively, so if you have to make a choice, I'd give a thumbs-up to the dolphins.
Spent Monday morning hanging out on the beach and in general relaxing before it was time to check out of the hotel and drive back.
It's so nice to get out of town, even if it's just for a weekend.