Gardening for dummies
One of my least favorite activities is yard maintenance, which means that it gets put off, which means that the yard looks worse and worse, which makes it less and less appealing to go out and do the maintenance, and the cycle continues.
We received a nasty-gram from the home owners association about the state of the front yard, which I thought was if not in great shape at least OK. But apparently one of the neighbors disagreed, so the jackboot of our invisible overseers came down.
So I've been dreading spending the weekend with my nemesis Mr. Hedge Trimmer.
Dread.
Don't. Want. To. Fix. Yard.
So we broke down and hired a crew to do regular upkeep. Not that we wanted to spend the money, but spending the money hurts less than yard work.
They came by today for the first time, and boy howdy, it looks nice out there now.
Nice. Nice. Nice.
Here's the before of the needle palm in the back yard: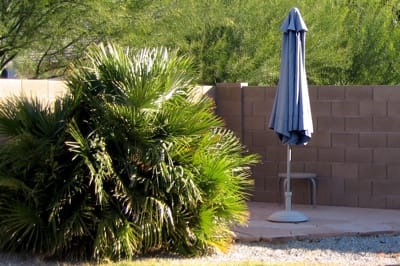 Needle palm before Mad Gardening Skillz were applied. Click for larger version.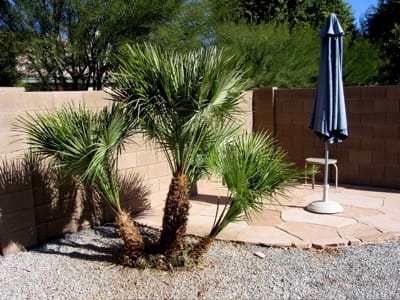 After Mad Gardening Skillz. Click for larger version.
My parents are in a state of shock about how far their son has fallen, but finally biting the bullet and not dealing with the yard myself any longer has lifted a huge weight off my shoulders.
Nice.
---
Enjoy the ten latest posts!
Remembering the cost of World War II through airplanes.
Apple's neglect of the pro market is causing a lot of gnashing of teeth in Apple-nerd circles, but it's true to Apple's vision.
There is unrest in the Mac community about Apple's commitment to the platform. Some are turning their eyes to building a Hackintosh to get the kind of computer Apple doesn't provide. Here's what it's like to run a Hackintosh.
Lots of fiction series in this one. Includes Grunt, 1177 B.C., Louder Than Hell, Smarter Faster Better, The Hanging Tree, Death's End, Chains of Command, and Who Killed Sherlock Holmes?.
Hey kids, you like epic fantasy? 'Cause I've got some epic fantasy for you.
Car nerds are dealing with some cognitive dissonance as car technology changes.
The Oasis is Amazon's best e-ink reader to date, but it's not good enough for the price.
Nic buys an Amazon Echo and is indubitably happy with the fantasy star ship in his head.
The Occupy movement, the Tea Party, and now Trump. America is angry.
The problem isn't ads. The problem is being stalked like an animal across the internet.
The DS416j is a nice NAS for light home use. Just don't expect raw power.
The Core Dump is moving to GitHub Pages. This is a good thing, most likely.
Tempus fugit and all that.
Nic has never been more worried for the future of America.
This installment features grimdark fantasy, peppy astronauts and the Roman Empire. Includes SPQR, And On That Bombshell, The Code Book, Schiit Happened, Beyond Redemption, The Severed Streets, The Martian and Veiled.
Endeavour is a symbol of hope for a better future.