The Lindhs go to La Jolla on vacation. It's pretty great.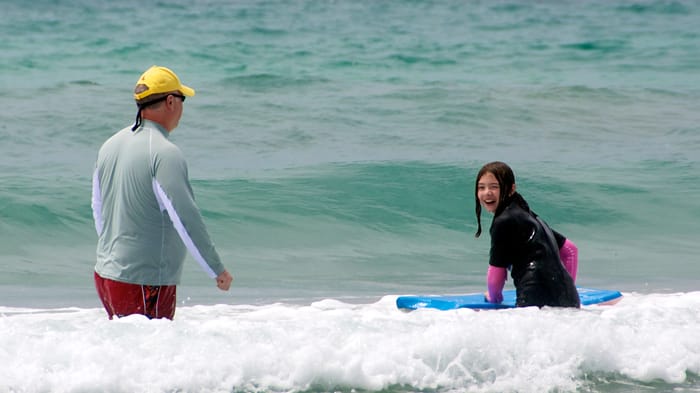 Making a San Diego escape from the Phoenix summer heat is pretty much de rigeur in the sun-blasted hell-scape us Zonies call home.
From the get-go our Acura TL ended up saving us a potential huge amount of hassle by telling me about a tire pressure problem as I fired it up in the morning of our departure. The front right tire was showing a 29 PSI pressure, which is right below normal. Driving over 300 miles across remote, hostile desert is not the time to challenge the gods, so I took it to the dealership to find out what was happening and it turned out there was a screw in the tire. The dealership took care of it with a smile. Thank you, Acura of Tempe.
Being Swedish and thus programmed to keep the trains on time, I was obviously not happy about the delay, but at the same time very happy to not have a flat tire in the middle of nowhere without cell phone reception. As a sidebar here, the drive from Phoenix to San Diego on the I-8 is essentially a six hour reminder of why humans aren't supposed to live here—harsh, arid desolation and crumbling highways. It's grim. So, thank you little computer on the car for saving us from an at the very least annoying situation.
The Google maps, they are killing us
Since we hadn't been to San Diego since 2005 and I hadn't kept notes on the route we took then, we decided to let the mighty Google Maps be our guide. And Google Maps told us to take AZ 238 till it met the westbound I-8. Great. Except the 238 is a hideous highway. Two facing lanes, no rumble strips, tons of dips and turns. We did it in the daylight with little traffic, so it wasn't too bad, but holy crap, the 238 is a fatal collision waiting to happen. (On the return trip we stayed on the I-8 till it met the 84. This is infinitely less awful.)
It might be a great feature for any mapping or GPS system to take into account the fatality statistics on stretches of road when making suggestions—"Would you like to get there faster or alive?"
The smell of salt
Once we made it across the mountains and the roller coaster rider of 6% downgrades across the mountains we were in San Diego. We had booked a room with an ocean front view and a kitchenette and the La Jolla Shores Hotel did not disappoint. Small but clean and nice room with a balcony that opened up right on the beach. And oh, that beach! The surf was so loud you had to raise your voice to talk above it.
Since we had a kitchenette, we were going to use it. Now, smart people might shop at home and bring the produce with them in a cooler. We are not smart people. So we had to get supplies. Which we knew wasn't going to be a problem as there's a Trader Joe's less than two miles from the hotel.
As we were driving to the Trader Joe's at the La Jolla Village Square after checking in at the hotel, Andrea out of the blue asked, "Can we move here?"
It's that gorgeous of an area.
Your parking lot is a monument to despair
Then we got to the Trader Joe's. Now, if there's one thing you assume America has down pat it's how to create a parking lot. It's been done successfully many, many times. I've seen the results, and they've been fabulous.
What happened at the La Jolla Village Square I don't know, but I'm assuming zombie Hitler was involved because the shopping center has managed to create the most user hostile parking lot I've ever had the misfortune of experiencing. My blood pressure goes through the roof just thinking about it so no details except after we somehow managed to exit without dinging the car we decided to never go back to that shopping center. I'd rather starve.
And then it's the beach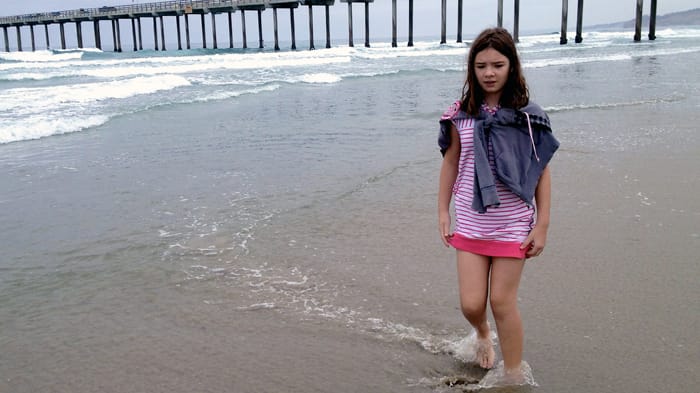 On our first morning Andrea and I walked barefoot up and down La Jolla Shores, our feet in the surf, and she looked at me apropos nothing and said, "Isn't life wonderful?"
And it was.
Needless to say, we spent a lot of time both mesmerized by the surf and playing in the waves. Andrea is a water child of the highest order, so we rented wet suits and body boards and she spent many hours getting the hang of working the waves, ending up a pretty decent little body boarder with a good eye for the waves. It was wonderful to see.
Welcome to the chill
La Jolla is a complete chill-out zone. There is pretty much nothing going on. Exactly as I had hoped. There's a beach, there's houses and hotels and a couple of surf rentals and restaurants and that's it, at least from what we saw. No McDonald's or Burger King were immediately visible, and no happening bars or clubs. It was perfect if you're looking to enjoy a beach and then a good night's rest. If you go there expecting happening night life you'll probably be disappointed.
Of course, the University of California at San Diego has a campus there, so I'm sure there are dive bars, etc. up in the hills somewhere. But they're hidden from the beach.
Real life roller coaster
The most stressful part of the drive between Phoenix and San Diego is the mountain stretch right east of San Diego itself. You go from sea level to above 4,000 feet on a twisting and turning road with occasional 6% downgrades surrounded by drivers and cars of varying levels of preparedness and ability. The Acura TL with its 258 horsepower was incredible at this point of the trip—it was on rails and with so much power to give on the climb. Love that car.
At this point I'd like to tip my hat to the lady in the smart car doing 70 mph on the downgrades on our way back to Phoenix. The smart—yes, lower case S according to the official website. Sigh. Hipsters.—car is basically the size of a large backpack with four wheels and she was absolutely barreling down the road in it, overtaking expensive road machines and totally Smokey and the Bandit smooth while doing it. Those are ovaries of steel, people. And then on the straights she got that thing up to 83 mph, which I sure didn't think was possible.
TL;DR
La Jolla is great if you're looking for an ocean getaway. Check your tires before you set off.