From a true patriot to a world-weary detective, a dead god, and a civilization about to sublime from the galaxy, this book roundup spans the gamut. Includes Where Men Win Glory, Wild, Inside the Box, The Black Box, Three Parts Dead, Red Country, and The Hydrogen Sonata.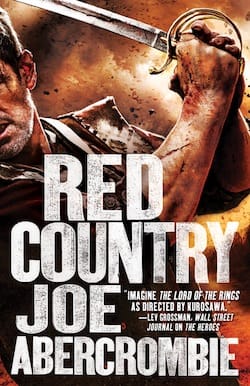 Non-fiction
The story of Pat Tillmans' life including his death from friendly fire in Afghanistan becomes a tragic hero's journey in Krakauer's thorough, well-researched book.
Where Men Win Glory paints a picture of Tillman as an iconoclastic patriot—the contrast between his selflessness and the Army's many shabby attempts at hiding the truth of how he died is sickening.
By painting Tillman's story and death and weaving it into the history of Afghanistan—"graveyard of empires"—al-Qaeda and the Taliban, Krakauer creates nothing less than an indictment of US international policy since the Vietnam War, topping it off with the thoroughly cynical treatment Tillman's family received after his death, all written with Krakauer's customary economy. Highly recommended.
Very well-written story of a woman who decides to hike the Pacific Crest Trail to help her cope with the death of her mother as well as other issues—cough many issues—she's been dealing with.
Strayed starts her hike doing everything wrong, including not ever having loaded her backpack before—it's way too heavy—not having worn her hiking boots before—they're too small—and pretty much any rookie mistake you can make.
But she grinds on.
We learn more about her background and demons as the story unfolds in economical, tight prose. It's a hard book to put down.
Interesting and emotionally powerful as it is, though, Wild does feel more "truthy" than truthful, with strangers showing up at the exact moment when she needs that kind of person to interact with and trigger a certain response too many times.
But be that as it may, Wild is a captivating read.
Nice, short history and personal impressions of the CrossFit movement from a journalist who has become a believer. This book makes you want to join a box and try a Fran (SLYT).
On the downside, while inspirational, Murphy glosses over a lot of well-publicized CrossFit drama and personality conflicts that are relevant to the topic. Nevertheless, despite its hagiographic nature,
Inside the Box is recommended for anybody interested in fitness or the CrossFit movement.
Fiction
The Bosch series is as good as it gets for current American police procedurals and the 18th Harry Bosch novel brings it. If you're already a Bosch fan, that's all you need to hear.
If you've never read a Bosch novel before, let me tell you that you must. But you should start with The Black Echo, then read them all in order.
Kos Everburning is dead. Now it's up to one of his acolytes and a hired-gun necromancer to figure out who killed the god and how to resurrect him.
It's rare to find a fantasy novel that turns the entire genre on its head. But that's what Three Parts Dead accomplishes. The best way to think of it might be dark, steampunk-ish fantasy by way of John Grisham. Because there is a trial, as there must be to figure out what to do with the estate of a god who has died under mysterious circumstances.
As a huge Joe Abercrombie fan I was wicked excited about this latest release. Unfortunately, it's far from his best. Not terrible, and with moments of glory, but in the end a disappointment. Of course, a disappointment compared to fantastic novels like The Blade Itself but still.
Basically Red Country is Abercrombie writing a fantasy western. Picture Unforgiven with magic and you're pretty close. In the end it feels like the bleak, desolate setting just doesn't give Abercrombie enough to work with and in this case his typical parade of cynical misanthropes only bring you down.
The Gzilt are about to sublime—to leave the universe behind and go to a better place. Which means other, less advanced, cultures are waiting in the wings to take over their planets and technology.
When things start to go wrong, the Culture, or rather, its ships, gets involved.
This is space opera at its finest, full of mind-bending ideas, huge (and small) spaceships, and the Minds that run the Culture ships. Said Minds are vastly powerful AIs with their own often warped personalities and foibles, and they enjoy nothing more than intellectual stimulation—what some would label meddling.
The Hydrogen Sonata is another strong entry in Iain M. Banks's Culture series.
If you like brainy sci-fi, you'll like this.
(DISCLOSURE: All links go to the Amazon Kindle store and are affiliate links. If you buy one of the books through a link here I get a tiny kickback from Amazon.)